Allied Seawind II Owner's Association
The Seaweb
by
Howard
This is the website for the Allied Seawind II Owner's Association. The goal here is to collect all the available information on the boat and to make it available to Allied Seawind II owners and folks who are interested in this type cruising boat.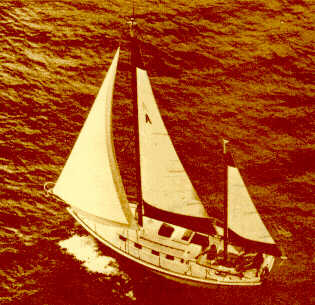 Seawind II Brochure
Seawind II Owner's Manual
FOR SALE: Allied Seawind II 32' ketch, 1977 hull #80 "Pianissimo", offshore-ready, tested to Africa and back via Caribbean, full set of electronics and spare sails, 2000 Yanmar engine, moored at American Yacht Club, Rye NY. Please contact bertrand@defrondeville.com or 914 967 4970
Bebinka Circumnavigation 1971
What is a Sailor?
This is how one of our owner's wound up with his boat.
Spring 2002 GAM
Spring 2005 - St. Michael's GAM
Fall 2007 - Annapolis GAM
Fall 2007 - Long Island GAM
April 2008 - Tampa GAM
May 2009 - First West Coast GAM
The Original Newsletters
Volume 1 Number 1 Volume 1 Number 2 Volume 1 Number 3
Volume II Number I Volume II Number II
Volume III Number I Volume III Number II
Volume 91 Number 1
Volume 92 Number 1 Volume 92 Number 2
Allied Seawind MKII
It seems that there are some resemblances between being in a cult and Allied SWII ownership.
If you would like to see what has brought the owners to this condition, read on.
(Check the rest of the site for an honest evaluation of the good, bad and ugly.)
Hooked
If you would like to see what some of the owner's have to say about
themselves or their boat, click on this link and then the boat name
Owner's Page
I thought it would be nice to put some faces to the names you see here and in the mail group.
If you aren't a member of the mail group, you may subscribe by clicking on the link below.
Seawind II Sailors Album
Line Drawings
Solution - A Proven Bluewater Cruising Yacht

Good Old Boat Article Allied Seawind II
Good Old Boat Article Thomas Gillmer
Good Old Boat Article Allied Boat Company
Sailing Magazine Used Boat Review
Practical Sailor's Report
Spinsheet's February 1999 Used Boat Review

Here's a lot of useful information about the technical aspects of the boat.
No gaurantees. Just what folks have learned about their boats.
It might be useful for other boats as well.
Seawind II Knowledge Page Thanks to Eric Singer at the Allied Seawind site and some of our own members, we now have Alan Eddy's booklet.
So You Want To Sail Around The World The Molds

Ed and Gil produced a DVD which features their SWII. The whole spiel is at Dancing with the Wind and the sample video is at The Video

The contact for the Allied Seawind MKII Association is
Howard Hering
howard@alliedseawindii.org



Site started October 1998
94339 hits April 14, 2014
Pretty good for a fleet of 130 boats.



---